Why are Coatings Used?
Mentis has developed coatings for use on composite nosecones and radomes with the following goals in mind:
Improving resistance to rain erosion

Promoting a stronger bond or adhesion between two materials

Helping to meet stringent hermeticity and sealing requirements
COATING TYPES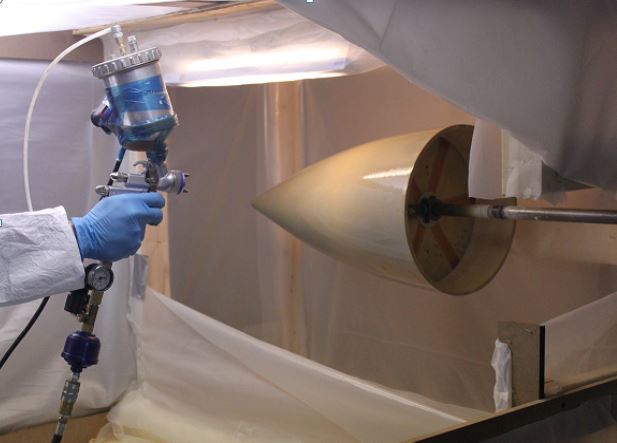 The two primary coating types in use at Mentis are sprayed polymer coatings and thin film coatings, deposited using DC Magnetron Sputtering system. These application techniques have been used independently, or in stacked series, to develop coatings that demonstrate significant advances in rain erosion survivability and moisture transfer/absorption (hermeticity) properties. In addition, sputtered coatings have been developed to improve the bonding between the structural and thermal protection system for nosecones currently under development.
---
Sputtering
Mentis has an in-house sputter coating system ideal for the batch processing of small components. Reactive sputtering techniques have been used to create oxide based coatings that meet the electrical performance requirements of many radomes.
What is Sputtering?

Sputtering is a form of thin film deposition that can be used to apply a wide variety of materials to a substrate. Coatings are built up by molecule by molecule so the finished coating is often only a micron or less in thickness, but maintains complete and consistent part coverage. Coating properties are highly customizable. Typical applications of sputtered coatings in industry include: semi-conductor wafers, wear resistant tool coatings, and optical components.